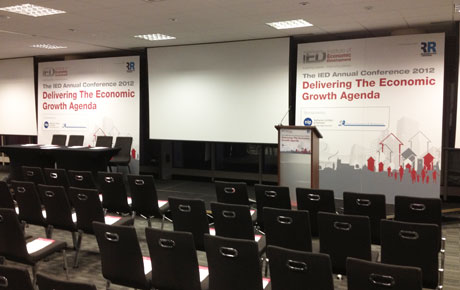 Stage Branding
When you take the stage, whether it is at a convention or a promotion, you need to be sure that everything is perfect. It will never be more important for your logo and design items to look great. That is why Mars Digital Printing offers quality print services, with the amazing depth of color and resolution that you need to make your designs pop off of the stage.

Banners, stands, and signs are important tools in your stage branding arsenal. Mars Digital Printing provides all of these in a timely manner and can even help to prepare your brand and stage show. Our experienced fabricators and signage experts will design the perfect stage presence for you and your brand. It does not matter whether you are looking for background placement in a drama or if you are rolling out an enormous new product line at a trade show, Mars Printing will get you exactly what you need. We can create stage branding for a single specific stage event or help you assemble a portable kit for versatile uses.

Scaffolding, lights, and other necessary implements should be treated as part of the entire effect. Cover them with banners and signs for your brand and see your name recognition skyrocket. Brand logos with light boxes and other electronic devices are part of our arsenal as we transform a drab stage and scaffold into a glittering advertisement for your brand. Dazzle and delight your audience with beautiful expressions of your brand identity Product demonstrations, concept drawings, gorgeous illustrations, and photographs of the product in use all serve to reinforce the message of your brand and your service.

Mars Digital Printing understands your high hopes for your brand and we will exceed your dreams. Brilliant colors and crisp lines, printed on any material you desire from cardstock to cloth, will dress your stage with resplendent reinforcements of your brand identity. Our region of the world sees many influential conferences and trade shows, so you have to be at your best to compete. Mars Digital Printing will give you the professional help that you need to make your brand come to life.